How I started cutting my hair is an exciting story, but I will save it for another day.  Today is all about the flowbee review, and why I will never have someone else cut my hair.
I remember back to 1992 when the movie Waynes World came out.  There was a scene in the film about flowbee sponsoring their TV show.  Their tagline was, "it sucks as it cuts" and Wayne looks into the camera and says, "it certainly does suck," followed by their stoner chuckle.
Not a flattering moment for the company, but a great laugh for the movie.
Why does that matter to me almost 30 years later?
Because I Cut My Hair Now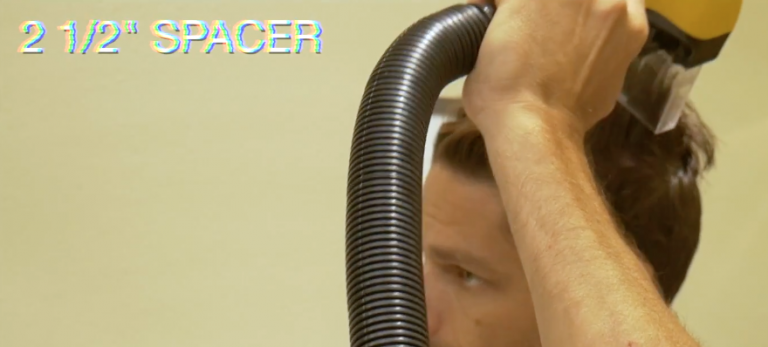 I save so much money since I started doing it ten years ago.  You can read all about that over here.
But aside from the money I save, I am doing this on my own.  I just don't like the idea I have to go to a cost-cutter and get a haircut two times a month.
I also don't like strangers talking to me while performing a subpar haircut.  I figure my hairstyle is relatively simple enough that I can do exactly what they are doing.
After about eight years of cutting my hair a certain way, I realized it was simple, and I needed something to maintain that.
I Was Recommended The Flowbee Haircutting System
Flowbee Haircutting System with One Extra Oil Bottle
It Includes :Flowbee Haircuting System and One Extra bottle of Flowbee Oil

Save hundreds of dollars in haircuts Quickly attaches to most vacuums with ease A perfect cut every time.

Easy to cut your hair and others.
Prices pulled from the Amazon Product Advertising API on:
Product prices and availability are accurate as of the date/time indicated and are subject to change. Any price and availability information displayed on [relevant Amazon Site(s), as applicable] at the time of purchase will apply to the purchase of this product.
| Image | Title | Buy |
| --- | --- | --- |
| | Conair Even Cut Rotary Hair Cut Cutting System; Lithium Ion with Bonus Trimmer; Red | But at amazon.com |
| | Blingdots Hair Grooming Trimmers Set, Vacuum Hair Trimmers Automatic Hair Suck Clipper Baby Vacuum Electric Child for Men Stylists Barbers Kids Home Using | But at amazon.com |
| | QUICATCH Portable Vacuum Hair Trimmer Hair Clipper - Family Hair Cutting Tool - Automatic Hair Suck Clipper Vacuum Electric Hair Clipper for Baby Child/Men/Women (Blue) | But at amazon.com |
| | Panasonic ER-GS40-W white self hair cutter | But at amazon.com |
| | Conair Number Cut 20-piece Home Haircut Kit | But at amazon.com |
| | Remington MB6850 Vacuum Stubble and Beard Trimmer, Lithium Power and Adjustable Length Comb w/ 11 Length Settings (2-18mm) | But at amazon.com |
I chuckled when my buddy told me to look into trying.  Then he pointed to his head and asked if I could tell that he had cut his hair using the flowbee equipment?
I was in shock, because I didn't think my friend was skilled enough even to attempt cutting his hair, but also, that it was cut with the flow.
He offered to let me take it home and give it a try.  With a few instructions from him and a couple of youtube videos, I got enough courage to give it a shot.
I always think that this is not reversible, a worst-case scenario would be, I just cut shorter to compensate for the mistake.
My Flowbee Review
Before testing this out, the old way I cut my hair was with clippers and scissors.   I would wet my hair down and trim the sides and then the tricky part was getting an even cut on top.
My first thought when using the flowbee was, cutting the top was a breeze.  Everything was even and trimmed.  I have thick hair, and one of the complaints I had before this was getting an even thinned out cut.
The kit comes with different cutting length spacers to use, from 1/2 up to 6″.  I choose to go with 2 inches on top, and then I used a 1-inch spacer on the side and then I used the 1/2 inch to get a layered cut.
All those sizes worked great, but to clean up, I had to use my clippers to go trim my sideburns and the back of my head.
I'm a little pickier about my sideburns and back of my head hairline.
It's a simple system with minimal cleanup on yourself, counter and floor.  The nice thing is, those tiny prickly hairs no longer exist because the vacuum sucks up every bit of it.
PROS
This will give you the same perfect haircut every time you use it.
It pays for its self over in just a few months.
There is no cleanup
CONS
It is loud because it attaches to your vacuum
Doesn't trim sideburns
Blades will need to be changed over time
How Does The Flowbee Work?
The system design is simple.  You will need a standard vacuum where you can detach and add the flowbee hose to it.
The hose is attached to the clipper; you will need a plugin for that.
Pick which spacer you want to start with, fire up the hose and turn on the clippers.  The suction will draw the hair up to the Clippers and cut and then suck the cut hair through the tube.
The spacer will only allow that size, so anything that is any longer is cut.  This gives you an even cut for your whole head.
Will I Ever Go Back To A BarberShop?
After 10 or more years of DIY haircutting, I will never go back to a barber or salon.
If you don't enjoy going through the process of the dreaded haircut, or paying an extra $400-500 a year, invest in the flowbee haircutting system.
Let's not forget one of my favorite reasons why I love this, no cleanup!