In the 1950's and 1960's, young males had to have the standard innocent haircut, anything else and people might think you're dangerous.  The type I'm talking about is the greaser guy with the cool haircut, like James Dean in rebel without a cause.
Fast forward several years and it has now become so iconic we call it the Johnny Cash haircut.
But before Cash, another well-known icon was securing their place in history who also had amazing hair.  That person was Elvis Presley, and legend has it, Presley, taught Johnny how to style and cut his hair.
What Do You Call The Johnny Cash Haircut?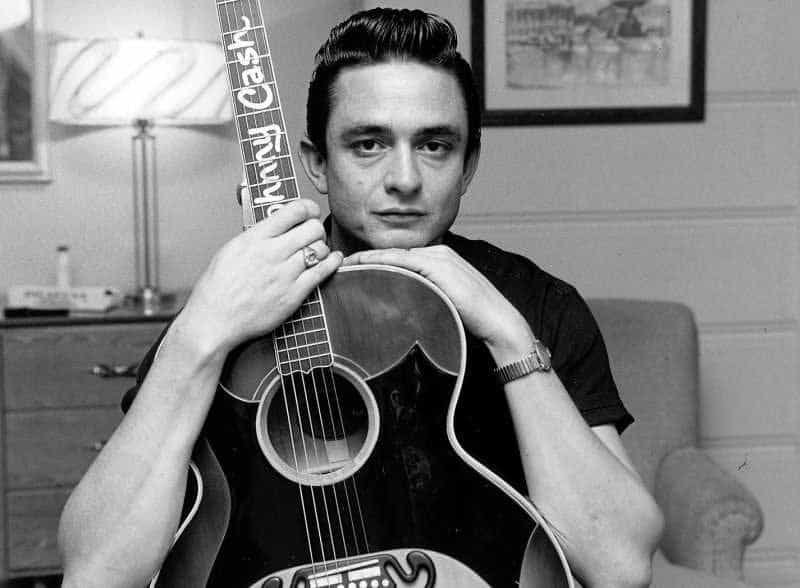 Today we call it the pompadour.  Pomade is used to grease it back and keep it in place throughout the day.  Occasionally combing back into place as needed.
Johnny kept this haircut his entire life, although some decades were more of the big hair years like the 1970's and 1980's, he never was swayed to try anything else.
But was Cash's hair as iconic as him, the legend, the slow drawing, whiskey-fueled country singer?  In my opinion, his hair was great, but it really doesn't play a roll in how I imagine him.
And in fairness, Johnny was classy, he did not ever overdo it with his hair.  He wore it well and that's what we all appreciate about the man in black.
This Is What Johnny Cash Used to Style His Hair
Like Elvis, in the late 50's there was only a couple of options to use for your hair.  Pomade was the way to go, Dapper Dan, Dixie Peach Lovers Moon, Royal Crown, and even Vasoline.
Check out our article about Elvis and his Hair.
Can hairspray or gel work?  My answer to that is no, and here is why.  Those products are like glue, and their job is to keep your hair in place.  Depending on how much gel or spray you use, the harder it becomes.
Using products like pomade, you have that natural slicked back hair that does have the freedom to come undone, but also snap back into place.
I'm sure you've seen Cash's hair become a total wreck in some of those iconic 1960's concert photos.  What you don't see, is him taking a comb out of his back pocket and resetting his hair.  It was that easy!
He Was The Total Package
Aside from his stylish hair, he wore his legendary black suit.  Stone-faced, deep baritone voice and guitar.  This is what makes the man in black.
He sang about his somber style and answered the questions many had back then.  Why do you only wear black?  June Carter once said to Johnny, you look like you are going to a funeral, and he replied, maybe I am.
He wore black as a statement and protest for those less fortunate.  His philosophy could have several meanings, but my interpretation is this is his rebel fight with those without a voice.
Style Your Hair Like Cash
It is fairly easy to achieve.  You're going to first make sure you have the right haircut.  That is short on the side and a good length on top.
Pick up a tin of pomade.
You can read our best pomade for men guide here.
If you're a first time user of pomade, it's simple.  Use just a dab in your hand, and while your hair is still damp rub both of your hands through your head evenly, like you are shampooing.
Using a comb, start from the front and work it to the back.  Once you have that, you can start to give the front some volume, use a hairdryer to finalize the hold.
And there you have it!