Does your hair need just a little extra help to get that super sweet hair-do?  Looking for a great water-based pomade? Then I think you might be happy with this one.  Read our Baxter of California hard water pomade review, and you will probably be trying this one next!
I have thick black hair and my colleague who also uses this product has thinner hair.  Both he and I love the hold the clay pomade gives as well as the nice matte finish.  Works amazing!
Light to medium Hold
Shine finish
Water-based (easy to rinse out)
Clean citrus scent
Works well with Thick or Thin hair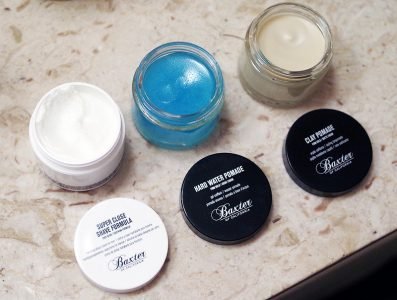 For full review continue reading.  We are sure this pomade could be the one you end up using for a long time.
Consistency
My first impression when opening the jar was the pomade was clear.  I guess I'm used to all sorts of colors that blend into your hair.  But, I think it makes sense to have a clear application.  There is a tint of blue in there, so not exactly clear.
Being water-based it does feel creamy and lite.  Unlike a clay finish which is thicker, this is so smooth and scoops out super easy.
Application
As easy as it was to scoop it out of the container it is just as easy to apply to your hands and rub through your hair.
That's because of it's rather a wet feel almost a super moist cream.  Imagine how easy that is to work.  I think on the downside, I could probably go through more of this because of that.  But I'm okay with it.
I didn't have any problems with applying it.  It didn't leave my hands greasy afterward, which is sometimes a pain when applying pomade.
Hold
Here is where Baxter soft water pomade surprised me, for a light to medium hold, this stuff has the strength to go a full day.  From start to finish is sort of Baxter's business model.
Although if you need some stronger stuff, you need to check the Hard Water.
Shine
It seems the shine is short-lived and that is the case for many of the water-based pomade we use.  On the positive, you may have less of shine, but you also have no grease.  And being a water based, it washes out pretty quickly.
Smell
Unlike other pomades, this has a different smell.  It has a bit of light citrus tone to it.  Which I think is nice a different.  Some fragrances can be just a little too much; I like this California brand that brings a bit of its southern freshness and adds it to the product.
Lots of love for the scent.
Conclusion
I think I would use this for short days at work or a night out for dinner.  We believe it has the potential to make a full day, but that all depends on what you're doing and the weather.
We like this stuff because it's a water-based pomade.  It gives a light, smooth feel to your hair while holding it in place.
We love the smell, citrus is different from what others have been using and we dig it.  Nothing wrong with a little fresh lime or lemon!
The shine is a bit of a letdown, but as we explained its a water base and not an oil, which would last a lot longer.
This is a great pomade that feels pretty natural. You should try it, you would love it.
Check out some of our best pomade here!