If you have thick hair and you are trying to style it but aren't sure what to use, this article is for you!  My hair is crazy so and I've been testing out the best hair clay for thick hair to see if that helps.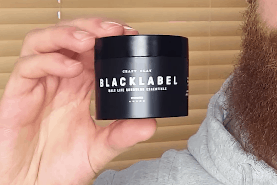 I first started trying to tame my hair when I was younger, using hairspray and then on to gel, which I used for 15 years.
Sometimes I used both, depending on the humidity.
Then I was happy to discover a much better product for my hair, it is called pomade.
Pomade is nice, but for thick hair, I have better luck using hair clay.
The 5  Best Hair Clay For Thick Hair
Over the past year, I was able to give a few of these clay's a try and a few others that weren't worth mentioning.  Here is what I use and recommend giving one of them a try.
| Image | Title | Buy |
| --- | --- | --- |
| | Smooth Viking Hair Styling Clay - 2 Ounces | See Price |
| | Baxter of California Clay Pomade, Matte Finish/Strong Hold, Hair Pomade for Men, 2 fl. Oz | See Price |
| | Aveda Men Pure-Formance Grooming Clay 75ml/2.5oz | See Price |
| | Layrite Cement Clay, 4.25 oz | See Price |
| | American Crew Molding Clay 3.0 oz | See Price |
| | Sebastian Craft Clay Matte Texturizer, Remoldable Texturizing Hair Clay, 1.7 oz | See Price |
| | Old Spice Hair Styling Clay for Men, High Hold/Matte Finish, Barber's Blend Infused with Aloe, 3 Ounce | See Price |
| | REUZEL INC Clay Matte Pomade, 4 oz | See Price |
1. Baxter Of California Clay Pomade
You read that correctly, it does say clay pomade, so what exactly is it?  I suppose it could be considered a hybrid by combining the two styles.
But what I noticed and liked was the hold of the clay and the matte finish of the pomade.
Applying this product was a bit challenging likely due to the second ingredient being beeswax.
It takes time combing it through and evenly distributing your entire head of hair.
I was able to get a nice style and tested the hold, happily, it stays in place nicely.
Another pro is it really can last all day, never having to reapply and other than a comb through you should be set for the day.
The container is a nice sophisticated glass jar, which does make this product appear to be a super high end, but averages around $20.
The smell is good, earthy and organic, sort of smells of licorice.
Overall, this is a very good product, and a nice introduction to the world of clay if you are already used to using pomades.
Buy, Baxter of California Clay Pomade
2. Smooth Viking Clay
As a runner-up to Baxter is smooth Viking clay.  After using it, I was trying to think of a way to describe this product.  It is very dense yet still very creamy, so it hit me.
Look at the name of this product, and there is your exact description.
Smooth, as you would think it should be it is, but yet the Viking as tough and strong.
My first impression was it has the texture of playdoh, and how the heck would this get evenly dispersed into my thick hair?
As I discovered, once you start to work with it, the "smooth" shows up and I was able to work it in just fine.
The hold is very strong, especially with thick hair.
But it's not like super strong, it won't hold a mohawk up, but slicked back or side part is perfect for this product.
The smell is pleasant and not too strong.  A bottle of this would last around 2 months if using daily.  Viking clay is very easy to wash out with a shower and some shampoo.
This happens to be the best seller on amazon.com.
3. Layrite Cement Clay
You have probably heard of Layrite before, whether it was for pomade or clay, they are a recognized brand in the hairstyle industry.
What's different about this brand vs. others is the size of the jar.
A typical jar is around 2 oz, but laterite is 4.5 oz, so right there you are saving money, which I like!
Opening the jar you are hit with the nice creamy white color and vanilla smell.
Using this product, like other clays you need to work with it a bit to apply it evenly through your hair.
Here is a tip I learned, do not use this when your hair is wet, only when damp or dry.  The results will be better.
You're going to notice how white Layrite clay is, but don't worry it applies clear.
Layrite clay is super strong, probably the strongest in the clay category.  Working it into your hair does require some work, but not much.
Take a dab using your finger and work it using both hands, once it's warmed up you can add it to your hair.
Now, this is going to take a little more time but it's worth it if you are looking for a stronghold.
Once I evenly had this in my hair, I was able to work the comb through it to get a nice sharp hairstyle.
I like to use this on my thick hair, especially when it is humid outside.
Here is a little tip, start small and work your way up if needed, but keep in mind the more you use the more your hair is going to look greasy and shiny.
4. Anchors Courage Vegan Hair Clay
Climbing up the charts is this all-natural "vegan" hair clay.  This is a great product being made by homebrewers who happen to also be veterans!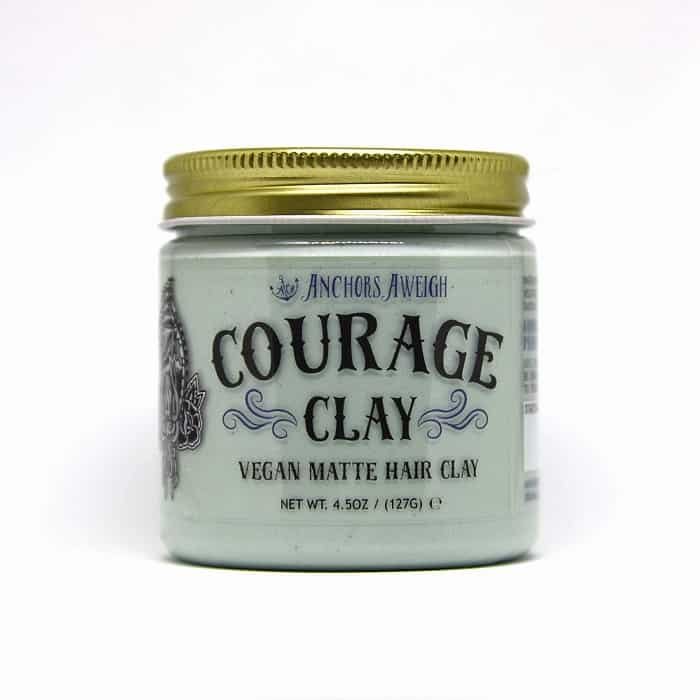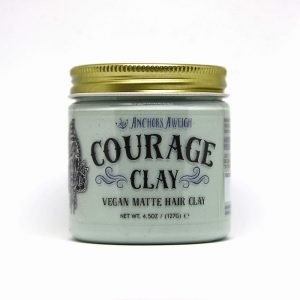 Before we get into this hair clay, let me explain what they mean when they say this is vegan.
As you know, a vegan is someone who doesn't eat anything that has any animal byproduct.
Of course, you aren't going to eat this hair clay, but it is important to the company and it's clients that they let you know that this does not contain any animal by-products such as beeswax and it was not tested on animals.
This is an all-natural vegan hair clay.
Let's dig in and see how Anchors stacks up against the others.
You get a 4oz clear jar and metallic lid, its the classic design that most homebrewers like to use.
A bonus to it being clear is you can see the product, which is a pale green color, that has a nice contrast to the writing on the jar.
But also, you will always be able to know how much you have without opening.
Another highlight of this jar is that it has a powerful message, the definition of courage.
Along with a box below it that says "starting today, I will build the courage to:" and this is where you can fill in the blank.  I really love this.
The scent according to Anchor is it is of sweet tobacco cedar.  My thoughts are it is pretty accurate, it is a very earthy aroma that smells better than a lot of these cologne scented pomades do.
Scooping this out was actually very easy.  It has a consistency that is creamy and smooth, and you can feel it is ready to work into your hair without much extra effort.
Once I put this in my hair, you could feel it react almost instantly.  This had a slight tug and pull to my hair, I found that odd since this was lite and creamier than the other products.
This was minimal and with thick hair, you can expect that to happen.
The hold was extremely strong, very low shine and it has a nice matte finish.
Overall, this is on heavy rotation in my styling arsenal.  I recommend this to my friends with thick hair, this is truly a great independent company!
Buy, Anchors Hair Company Courage Vegan Hair Clay
5. American Crew Molding Clay
The company was started in 1994 by David Raccuglia.  David sensed a revolution happening with men and their hair, so he started American Crew and as of today, it is the most popular men's grooming brand.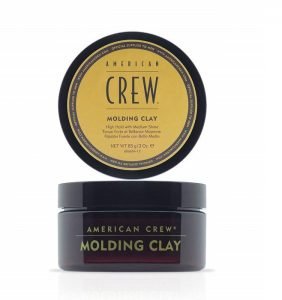 However, because the American crew is so well known, I was a bit rebellious toward trying them out.
To be honest it was when they release the container of pomade that had Elvis on it is when I picked it up to finally try it out.
What I liked about the American crew clay is that its a low hold compared to the others.  Thick hair doesn't always need to be put in a headlock.
I use this more for styling, it gives a nice soft feel with a little shine.
The smell is pretty decent, a minty tea tree scent comes to mind.
I have noticed some reviewers say it is too much shine, and that sometimes comes off as greasy, especially if it's not a stronghold.
But overall, I would recommend this for thick hair if you want to style and not mold.
I used just a dime-sized dab and worked it in both hands before applying.  With damp hair, I run my hands through and comb into place.  That seems to work as I said, this is not a stronghold, so your hair will move.
As far as the cost goes, this is a salon-style product with a big brand name, so it's probably $5 more than any of the others listed, around $15-20 depending on where you get it.
These are currently our top favorite hair clay's.
Buy, American Crew Molding Clay
Frequently asked questions
Below are some frequently asked questions that we answer for you.
How much hair clay should you use?
The amount you should be using depends on a couple factors, how thick is your hair, is it humid out, did you apply when your hair was dry or wet?
The proper amount is usually a dime-sized portion, using your finger to scoop around the sides with one finger.
Rub with both hands to warm up the clay, and with damp hair, you can start to apply it.
If you think that wasn't enough, go for a second scoop, but maybe half
the size of the first one.
Adding too much can make your hair greasy and it just won't work like it is designed, so proceed with caution.
How long does hair clay last?
These can really last all day, but there are some like the American crew that won't last 4 hours.
My suggestion is you look for the ones that say stronghold if you want it to make it all day.  But maybe you are getting ready for a dinner date and it's 5 O'clock and this really needs to hold for a few hours, go for the low hold.
This leads to the next question about getting it out, or what happens if you leave it in all night.
How to wash hair clay out?
Some think the name "clay" means its a thick dirt you put in your hair, but it more applies to the styling.
However, it is a product that you will want to clean out eventually.  I typically don't wash it out at night, because it's not oily.
Your standard good shampoo with a shower the next day is fine.  It washes out easily, and you wouldn't even know you had any in.
Is hair clay bad for you?
Clay is a great product to use, it holds very well for a long time, but doesn't have a heavy presence after use.
My experience tells me, it is not bad for you to use.  I think for people with thin hair, they should probably use a different kind, like pomade.
The reason being, sometimes when applying it will pull some strands of hair out.  If you do that every day, that wouldn't be a good thing.
For thick hair, this isn't a problem, but also if you are pulling out hair when applying, try and be gentle and not to rush.
Conclusion
I can't express how much we love clay, even more so than pomade.  That's because the hold and texture without the shine are perfect for us people with thick hair.
A hold that lasts all day, but also has the freedom to move so it seems natural.
The five we listed above are the ones we consider the very best in the industry.  A highlight to Anchor Courage for being independent and vegan. It's a great natural product that is great for males and females.
We'd love to hear from you, which one do you prefer to use?  Is there one we didn't list, give us a comment and let us know!
Thanks for stopping by to read this article and support hairyfoo.com!