I have recently come across a new one called Shiner Gold and wanted to share it with you.  Because it was recommended by friends and had good reviews, so I decided to try it out. You can read more about my Shiner Gold pomade review below.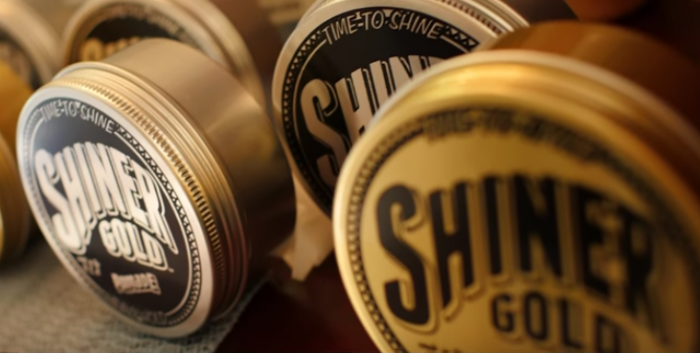 I have been a pomade user for most of my adult life.
My hair is quite thick and wavy and I like to keep it at a medium length, which often requires some styling and fixing.
Since I do not get well with aerosol sprays or mousse, the main hair product I use for styling is pomade
The interesting factor for me was that it is a water-based product and I wanted to experiment a little with that.
Shiner Gold Review
Prices pulled from the Amazon Product Advertising API on:
Product prices and availability are accurate as of the date/time indicated and are subject to change. Any price and availability information displayed on [relevant Amazon Site(s), as applicable] at the time of purchase will apply to the purchase of this product.
For someone who uses
Suavectio
very often, I was surprised at how smooth this stuff is.  I found the hold was very strong and last a full day.  Goes well for my wavy thick hair.
A very nice shine that also made it through the day, that's a good thing for a water-subtle product.
Here is the part I am still not sure of, the smell.  Most people I asked who use this would agree, it has a fruity pina colada scent.
You may or may not be into that, but here is the good news.  That does seem to fade after an hour.  So you just have a nice smelling head.  Its no cologne, it is more of a tanning lotion smell.
With that said, this may be the best pomade at least a water-based on the market.
Check Price And Reviews At Amazon
Design of packaging and first impressions
It comes in a 4 Oz. silver tin box with a retro design, which I appreciate as it fits my style.
The pomade looks like honey, it has a rich color and a surprising smell. I am used to overly masculine, strong scents when it comes to pomade, so I was not expecting it to be a sweet, fruity smell.
It is not overpowering, which is why I like it.
Application is easy because of its lighter consistency
Compared to petroleum-based products, it applies easier and is not as sticky and greasy. This could be a fit product for the ones that haven't tried similar styling pastes because it is easy to use and not so overwhelming.
To apply it, I just take a dime-sized amount on my fingers and rub it between my hands to warm it up.
When it becomes soft and more liquid I comb it evenly through my hair, using my fingers.
Then I use a comb to arrange it around my face or pull it back to keep it off my forehead. It is strong enough to keep your mane tame.
The hold is perfect for a more flexible look
It has a stronghold, although more flexible than the petroleum pomade. While I won't give up my extra-strong products for more extravagant styling,
I will definitely keep it for the rest of the occasions.
It held my hair back, gave a nice shine, and was still holding nicely at the end of the day. The water-based formula is super easy to wash off and it gave me the feeling that my scalp breathes.
Would I recommend it? Yes.
In terms of price, it is more than reasonable. You get great value for money from it, so I would recommend it to anyone.
It won't cover all your needs if you need it a very stronghold, but it is one of those products you can take with you when you travel or use it when you don't want a big fuss in the morning.