Sitting here in the barbershop I'm going through magazines trying to figure out what my next hairstyle should be.  And then I read the words on the page, what is a quiff hairstyle?
I come across the page with a man with short style hair on the sides but on top a sort of messy but cool hair that is up.  I noticed page after page that this hairstyle is kind of popular and it's done in many ways.
So I asked the stylist about these magazines and the new haircuts I see In the pictures. She replies with "oh that's called a quiff".
What Is A Quiff Hairstyle?
A quiff hairstyle is short on the sides with longer hair on top that has volume.  Most often the quiff hairstyle is combed off to the side.
A quiff is similar to a pompadour style, but the quiff is less restrained because you won't need products like pomade to grease it down.  I would describe quiff as a sort of rock star look that has the attitude and functionality for everyday use.
The quiff style has more hair on top focused on the front of the head with short somewhat groomed nicely on the sides.
Using products like hair clay, you can add the volume needed to texture and style up the front and back in an organized messy way.
How to Quiff Your Hair?
Depending on your hairs and the type of quiff you're going for, there are certain ways you can do this but here are the basic.
The most important part is you get your haircut done right first. What that means is short on the sides and a decent length on top. As I said above I just discovered this and I wanted to figure out how to do it right so I'm explaining how my stylist cut it for me after just showing her a picture from the magazine.
If you have the proper haircut you are mostly all set, in fact, it will take less than five minutes to do.
After your shower dry your hair off using a towel but don't dry completely. Now with your hair, damp you can have some product.  My personal favorite is here clay and since I have thick hair if this works out really well.
So what you gonna do is take a dab of the hair clay and rub it in your hands and then rub it through your hair thoroughly.  Using a comb start the slick it back.  No depending on the quiff you might want to grab a hairdryer and fluff it up to get as much value as you can.
For me I like to go with the messy quiff it's textured it's got volume and it also looks cool.
Celebrities with Quiffs
Being a very popular hairstyle you've likely seen many celebrities wearing it.  Below are some of my favorites.
Gordon Ramsay
Here is Gordon Ramsay, Hells kitchen host, and one badass chef.  He's rocking the angry quiff, I just gave that title to him.  He always seems pissed off, but it does look good on him.
David Beckham
This is another great example, David Beckham has a great quiff and not much else to say about it.
Jimmy Fallon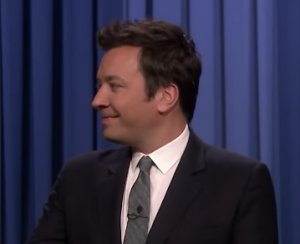 Jimmy Fallon, I have dubbed the easy lazy quiff.  Why, because take a look, his quiff took about 2 minutes to do but still looks great!
It Is Such A Cool Way to Style Your Hair
So as you see we just discovered what is a quiff hairstyle.
And to be honest it's my new favorite, I used to have the Pompadour but I was tired of using pomade and greasing my hair down, and then having to wash it out late at night so that it doesn't ruin my pillows.
What Kind of Products Do You Need for a Quiff?
To style your hair properly you will need some sort of holding product. Here are a few types you can use.
Some people use a hair mouse as a base to begin, I don't find it necessary but I think you could experiment and if it works for you great!  After the mouse, they usually add one of the above to style.
I don't recommend using any kind of gel because those tend to harden and leave chunks of hair locked in a crispy non-attractive hold.  You will not be able to quiff with gel!
You can buy those products just about anywhere, Target, Wal-Mart, salons, etc.  I have found some of the best products for cheap online, of course.  But if you're in a pinch, check out any big box store.
Conclusion
I hope my experience has helped you understand just what a quiff hairstyle is.  Honestly, it is not the best name for a hairdo, the British come up with some funny stuff.
Check out youtube for some videos to help show you how to style it, whether your hair is long, curly or short!