The struggles with having Asian type hair is real. It's thicker and fuller because it has twice the diameter then Caucasian hair. If you want to style it, you need a good hair product to do so.
I discovered pomade, and I can't tell you how awesome this stuff is and how it has changed my hair life. All pomades are great but it depends on your hair type and what style you are going for.
I explain further in the article about that if you would like more in-depth information. There are dozens of hair products to use, I've been lucky enough to have been able to try so many of them.
To pinpoint the product that works best for Asian hair is difficult because everyone's hair is unique.
But what I can do is let you see some of the pomades that worked for my thick wavy hair.
If you're in a hurry, check out what I have been using daily because of how it holds my style for long hours during the day.
| Image | Title | Buy |
| --- | --- | --- |
| Top | American Crew Pomade, 1.75 oz, Smooth Control with High Shine | See Price |
| Top | Layrite Superhold Pomade, 4.25 oz | See Price |
| Top | Suavecito Pomade Original Hold – 4 oz | See Price |
| Top | Baxter of California Clay Pomade, Matte Finish/Strong Hold – 2 fl. Oz | See Price |
| Top | REUZEL INC Fiber Pomade, 4 oz | See Price |
| Top | Pacinos Pomade -Firm Hold | See Price |
| Top | Baxter of California Hard Water Pomade for Men – 2 fl. oz. | See Price |
How to pick a pomade to use
I like to leave this up to you because it depends on what you want your hair to look like and do.  But here are a few tips to help you decide.
If your hair is naturally oily, choose a matte finish.  This is because some pomades have more shine to it and that makes look almost wet, but if it's slicked back, it looks really good.
Is your hair dehydrated and dry?  I would recommend trying a heavy pomade like reuzel.
Want your hair to have volume, use pomade on damp hair and then blow-dry while using a comb to get the height.
While putting our top 5 list together we try to gather 1 or two from each of the following type of pomade.
Water-based
Oil-based
Wax or Clay
See the comparisons and read further reviews below.
#1.Suavecito Firme Hold Pomade
Suavecito is a fantastic smelling water-based pomade.
One of the more sought after pomades because it's made by people who use it.  With their formula, you get long lasting hold, great smell and a product that you can use to style any hair.
Water soluble, washes it out easily.  No greasy mess.
Holds great, strong enough to last all day.
Applies in your hair very easy.
Smell is like a hint of cologne and cedar.
Easily the most talked about pomade out there because of their heavy branding.  You might have seen these guys at concert festivals, tattoo conventions, biker bars, where ever cool dudes are gonna be, they will be there.
Their story goes way back in to the 90's where the rockabilly scene was kicking off.  As it turns out, pomade was only available if you ordered it from overseas. 
So they eventually realized they could make their own, so they did and they made it to work for them!  My barber introduced me to them, and I have been a big fan as so many others are as well.
I like to say this is the perfect pomade for thicker hair.  As I mentioned it was recommended by my barber, I liked it so much I went back a bought a jar for myself.
It is a water-based that has the strength of gel and hairspray.
The nice thing with it being water subtle is you can easily restyle with just a little more water
The color is a transparent-brownish tint, not my personal favorite.  I like clear or reddish tints. Either way, it makes no difference.
The smell is a nice lite cologne sent.  Just enough to give a good smell to a passing stranger.
My favorite thing about Suavecito is the hold.  My thick hair needs something really strong.
I also liked the shine was about a medium and lasted for most of the day.  My dark hair has a shine of its own, so I really don't want to amplify it anymore.
This product is for thick hair and it works really great.  That being said, I wouldn't recommend this for thin hair.
American crew pomade, is a high end styling pomade.
Smells clean and works for thick hair that you want to style up with volume.
Water soluble, washes it out easily. No greasy mess.
Holds great, strong enough to last all day.
Applies in your hair very easy.
Smell is like a hint of cologne and cedar.
American crew is a very high-end pomade.  It's especially great for thick hair.  It has excellent strength and holds high volume styles.
My first impression was this is a very salon product.  It feels like a product.  Whereas some pomades have that DIY, made at home stuff, like Suavecito.
To be honest, it was such a nice clean bottle that I thought it may have been something my mom bought.
But I'm not trying to knock it.  I gave it a chance and was surprised.
I found this pomade to have the many quality's I was looking for to help contain wavy thick hair.
It smells really nice, subtle and not overpowering and gives you a medium to matte shine.
I popped the top and got a burst of a subtly scented cologne.  It is sort of clear and sticky.
It went into my hair fairly easily.  I just put a dab in my hand and tossed in my hair.  Combed it in, and it worked nicely.
It has a very stronghold and the shine wasn't that bad either.
Overall, this is a great product that may cost you a few more dollars.  But I think, if you need a stronghold that isn't a gel, go for this.
It's doesn't have that high sheen look to it after applied.  I know some people who like to have a little more shine from a product like this.
This is a matte finish, which is also ok for not looking too over the top.
Small jar and a little pricier than others.
#3. Layrite Super Hold Pomade
Layrite is a super cool product, possibly one of my favorite weapons I like to use.  First recommended by my barber at the time, I have been a fan for of Layrite since.
What I like is it is a higher end pomade, that has a reputation for having a great hold that looks natural and smells nice, not too over powering.
I watched a video once on how this product is made.  It is made in small batches and put in a refrigerators to cool down.I like that this is a hand-made, small-batch product.  But moving onto my review.
Layrite Super Hold Pomade
It comes in a nice big white container.  When you open it the first thing I noticed was the color of the pomade.  It is bright orange, super cool.  For once the smell didn't hit me, it was the color.
But the smell is nice almost natural vanilla.
No cologne here, but that's ok, this gives you the option to use some if you like and not have double trouble smell.
This is a water-based product that went into my hair easily.  Small dabs in you my hand in and it absorbed well in my hair.
A good comb-through to get my slick-back undercut style.
I notice this is super great for thick hair.  It holds a lot better than suavecito firme hold.
This does have a good shine to it, almost more than others.  But I think the less water used could tame it.
Non I can think of, overall this is the great pomade for what you are looking for.
#4. Imperial Classic Pomade
A mens grooming product the exceeds expectations for the past twenty years. 
A great smell and great hold for thicker hair.
Hold like wax, washes out like gel
Medium hold
Medium shine
Water Soluble
Here is the Imperial Classic Pomade, known for being tough on stubborn hair.  They like to call it "industrial-strength hold", which I presume means that it can put a hold on even the THICKEST hair!
I've tried lots of these that claim to have that strong firm hold, but imperial classic does indeed have that super strength that doesn't leave your hair crunchy like gel and hairspray.
With having thick Asian hair , I found that Imperail is the premium of the pomades I have tried.  Having the best hold of them all, without any dry flakes showing up, this one works for our type of hair.
Advertising that it has the toughest hold, would make one think, it is probably really difficult to apply.  But actually, it is just fine.  A small amount and splash of water works well when applying to your hair.
It goes in pretty well, using a comb will help, and I do think it is necessary.
It's a water-based pomade, that rinsed out easily and clean.  Re-apply later in the day with some water and you're good to go.
It comes in a nice jar that is pretty simple.  When you open it you'll notice the clear thick product.
The smell is simple, and unlike others, it has a faint fruity smell, almost like a melon.
Over all, I give Imperial Classic a 9/10 for hold and shine.
None I can think of, overall this is the toughest pomade for thick hair.
#5. Fisticuffs Tuff Hold Pomade
Fisticuffs also are known as "Tuff Hold" is another great water-based pomade for thick hair.
I first came across this product from one of my friends who rocks a great pompadour.  You know, one that was really high, and slicked back perfectly.  He told me I had to try it!
Fisticuffs "Tuff hold" Pomade
My first impression is I just love the jar (2020 update, new artwork is not as cool), it has that psycho-billy badass feel.  I do get the sense that this is really strong stuff.
It has a nice clean, fresh barbershop smell, like sandalwood.
It works really well for styling and has a strong "tuff hold".  A lot stronger than layrite.
This is an affordable pomade, much cheaper than salon-style products.
My review, this stuff is awesome, has a great stronghold and smells really awesome.  Works into your hair well and stays for many hours.  Restyle when needed.
Now I'm not sure this is will be your style, but I do think it is my top 5 pomades for Asian hair.
I've seen some cool looking Pomps and flows, but worked well for my quiff.
Fisticuffs doesn't have much I don't like.  For the price of this jar versus the others, you get a great product for a really decent price.
Other Asian Hair Products I Recommend
There are hundreds of hair products you can choose from, but I've narrowed it down to 5 of my favorite go-to pomades. Why do I use pomade and not gel or hairspray? Pomade is more professional, it's what salon and stylist use on their clients.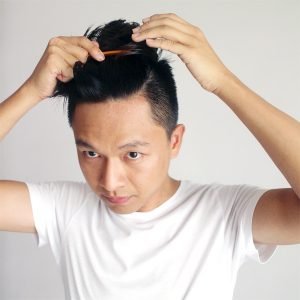 Now that you have read the reviews above you cas see why these are the most popular among people with very dark thick hair.
If you are wanting to have more control and ability to style, use any of the recommended below.
Over the last two years, I have used pomade to create professionally styled hair like a slick back, pompadour, and even a quiff.
The key to these top 6 is "the hold".  You see, having that thicker hair means you need stronger and longer-lasting hold.  Unlike gel and hairspray, this will hold a nice slick back or parted style for a lot more hours.
The scent is very important for me as well.  I like a nice cologne smell that isn't overpowering, but I also like a naturally sweet aroma.  You get that with those five for sure.
Should I Wash Out Pomade Before Bed?
The answer is No, but sometimes yes and here is why.
Depending on the type of pomade you use will make that decision for you.
Oil-based Pomades are a definite yes.  Because it is oil-based, that means its heavier and greasy.
This will likely mess up your bed sheets and also, could cause you to break out with acne.  One of the many reasons I don't ever use oil-based.
Water-based pomades are the way to go, they are lighter and dry out.
That why overtime you will have to reapply some pomade during the day.  Rarely have I had to do that unless I go out at night.
I don't wash the pomade out before bed and I have no issues, but I only use water-based.
I have listed some great tips that are very popular today.  I have no doubt that if your hair is thick, any of these will do the trick.  You may need to ask yourself what kind of style are you going for.
Slick back, undercuts, pompadours, k-pop hairstyles, etc.
From there you can figure out how strong your pomade needs to be.  Thanks for considering pomade, we hope you found a new product to use.
You can read our other article about the best pomade to use here.